MCL Injuries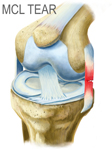 The Medial Collateral Ligament (or MCL) is a band of tissue located on the inner portion of your knee, but not inside the joint itself. It connects your shinbone to your thighbone. The MCL keeps the knee from bending inward. It also contributes to the stabilization of the knee joint and helps the knee rotate.
If you have an MCL injury, this means you have sprained or torn the tissue. This can be a mild sprain, a partial tear, or a full tissue tear (also known as a rupture). Since MCL injuries are common in contact sports, they often occur along with ACL injuries.
There are three levels of severity for classifying MCL injuries. These are:
Grade 1 - This is considered an MCL sprain. The MCL has been overstretched but not torn. This is the least severe MCL injury grade.
Grade 2 - The MCL has been partially torn, but not completely torn in a Grade 2 MCL injury. You may notice the knee is slightly unstable when walking on it.
Grade 3 - This is a complete rupture of the MCL, meaning the tissue is in two separate pieces. This is the most severe MCL injury grade. It is likely that your knee won't be able to support your weight.