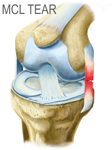 What is an MCL Injury?
An MCL injury is a sprain or tear to the medial collateral ligament. The MCL is a band of tissue on the inside of your knee. It connects the thigh bone of your lower leg. The MCL keeps the knee from bending inward.
You can hurt your MCL during activities that involve bending, twisting, or a quick change of direction. For example, the MCL can be injured in football or soccer when the outside of the knee is hit. This type of injury can also occur during skiing and in other sports with lots of stop and go movments, jumping or weaving.
If a tear in the MCL does not heal sufficiently, you may experience instability in the joint, and you will be more susceptible to re-injury. The MCL usually responds very well to non-surgical treatment, although surgery may be required in rare cases. Depending on the severity of the injury, a period of rest, bracing and physical therapy usually is sufficient to heal the tear.